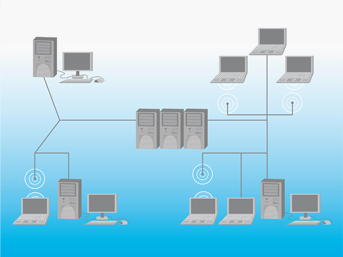 Memphis computer networking planning, design and installation. Network security and wireless networks. Call today!

Cooper Systems, Inc. has over 26 years experience specializing in all phases of computer networking and offers complete network design and installation for fast secure wireless or wired networks. Our service is fast and our rates are affordable. In fact, we have the lowest rates in the Memphis area. At every step of the way, we will do our best to demystify computer networking for you and make it easy. We can make certain your network is protected with the latest firewall, design a VPN so you can remotely access your data remotely, and check the security of your wireless networks.



Memphis computer networking planning, design & installation.

Affordable rates, fast service. Call 901-360-9679, we'll be right over!

Our network engineers can provide custom solutions for your small to medium business computer network in order to meet your specific business requirements, at a price you can afford. We will arrange for an onsite network evaluation, where we will obtain a thorough understanding of your current network along with all of your networking needs. Our staff includes Microsoft Certified Systems Engineers.

Cooper Systems can provide new network installations, upgrade your existing computer network, and make recommendations for improved performance. Computer network training can be provided for you and your staff so routine network administration can be done internally. This saves you money as service calls are reduced. We understand the importance of keeping your network running at its best at an affordable price. Continuing network support agreements are also offered to ensure that your network stays updated to meet your future business needs.

We offer a wide range of total IT solutions for your business. From basic peer-to-peer networks utilizing Windows XP Professional, Windows Vista Business, Windows 7 Professional, Windows 8 Professional, and Windows 10 Professional to Servers running Windows 2008, 2012, 2016 Server, and Windows Small Business Server 2003, 2008, 2011 with a Domain Controller utilizing Active Directory. We can even supply all of your computer hardware requirements, including Servers, Workstations, Routers, Switches, Firewalls, NAS Storage, and software licensing. AND, we even work to assure that you do not pay more than is necessary for your equipment or software! Cooper Systems is your Total Network Solution!

Why pay more for networking services? It's simple: we offer the best network service at the lowest price in the greater Memphis, Tennessee area. Please call us at 901-360-9679 and discuss your needs with Networking Pro!