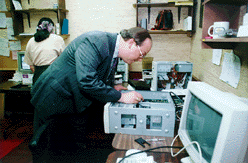 Cooper Systems Inc., located at 2744 Mt Moriah Parkway in Memphis, Tennessee, is a modern day computer firm selling the latest in hardware and software technology. While many larger computer companies spend millions on advertising to attract new customers, Cooper Systems emphasizes customer satisfaction and local service to maintain and grow it's customer base in the greater Memphis area.

The philosophy here is simple: if you don't make your customers mad and run them off, you won't have to replace them. Eighty percent of Cooper Systems business is either repeat or by referral. That says a lot. From Dell and Gateway laptops and PC computers to computer repairs and complete network installations, we can be of service to you.

The roots of the company go back to 1932 when Harry S. Cooper started the former Cooper typewriter Company, selling new and used typewriters. This was located on Second Street across from the Peabody Hotel. Today as it was in the 30's, customer service is the corner stone of the business. As technology progressed, electric typewriters were introduced, and after WWII, his son Melvin B. Cooper entered the business and expanded the product lines adding metal furniture and calculating machines and the Cooper Typewriter Company became Cooper Office Equipment. Again, technology pushes the business ahead; Melvin imported the first electronic calculators into the Memphis area, electric typewriters became electronic and calculators became programmable.

After working many summers a third generation, Lee D. Cooper, joined the company permanently in 1974.

In the late 70's Lee brought the company into the computer age and started selling Apple computers, and shortly after IBM PC compatible computers, and it became Cooper Systems Inc.

Realizing the design of most computers required the owner to have to purchase a new computer every few years, in 1992 Lee Cooper designed a line of IBM clones that could be expanded and upgraded without having to start over with a new machine.

He named this brand of computers Phoenix after the mythical Phoenix bird, that burned itself up every 500 to 1600 years and "reinvented itself".

Cooper's ideas have been noticed and he was written up in the The Commercial Appeal on May 30, 1994.

The following are some quotes from that article: By practicing simple concepts, such as providing customer satisfaction and local service, Lee D. Cooper figures he's got the giants beat.

Cooper's advice for consumers is to steer away from many name-brand computers sold in electronic stores, warehouse chains and department stores. His reasoning, he said, hinges on two components that can easily upgraded or replaced. Those that aren't modular have an integrated design, and may be more difficult to repair or expand.

Of course, computers Cooper builds are modular and nonproprietary. He calls his two-year-old computer Phoenix, because, like the mythical bird, his computers can be upgraded to rise again. He credits customers 75 percent of the current market value for old parts if they come back to have their Phoenix computer upgraded. "Upgradeability is one of the keys. Is it clone equipment, 100 percent IBM compatible, nonproprietary and modular in design? If it is, you can go a long way with it. And, if it isn't you're going to get stuck."

Cooper Systems is winning business from local corporations that are fed up with the service from mail-order computer makers, Cooper said.

Copied signs hanging through the office remind workers of the company philosophy. "Cooper Systems total customer satisfaction is not just lip service, it's how we do business. And I drum that into the heads of everybody here."

Use of this material is restricted by copyright law. Copyright, 1994 The Commercial Appeal, Memphis, TN. Used with permission. This material may not be copied, downloaded, or reproduced in any form or medium without express, written permission from The Commercial Appeal.