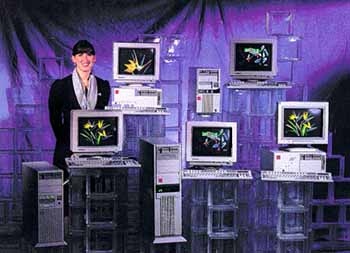 Today, one of the most difficult tasks facing computer professionals is choosing the right computer. Usually that means deciding between a high-priced model loaded with expensive bells and whistles, and a no-frills unit that can barely crank out email or get on the Internet.

Now you don't have to choose between technology and economy. Phoenix offers an entire line of IBM-compatible PC's that feature power, expandability, and reliability at very competitive price. That's real value.

All Phoenix PC's are assembled in the U.S. and are subject to strict quality control and burn-in program. They're available with

the latest Intel Pentium Quad Core and AMD Ryzen CPUs. In addition they can be custom configured to your exact specifications. Plus, they're compatible with all current versions of Microsoft Windows operating systems.

Phoenix Computers are available with a variety of the latest Microsoft operating systems. In addition to Windows 10, Windows 8.1 and Windows 7, we still offer new PCs with XP Professional. In fact we build a whole line of Phoenix Legacy computers to run your older software applications.

Plus, all Phoenix computers are built with a non-propriety parts and are easily expandable and upgradeable. In fact, when you are ready to upgrade your PC we will credit you 75% of the current market value for the old parts. All you pay is the difference plus installation. This saves you Green and is Green for our environment since less old computers are disposed of. Our customers tell us they are very happy that the life of their Phoenix can be extended so easily and economically.

Phoenix Computers are covered by a one full year parts and labor warranty, locally serviced right here in Memphis. Local telephone support is also included.

Remember: Get maximum output from every computer dollar. Choose Phoenix:

The PC value leader.